Professor's Welcome Message
Welcome to San Diego Miramar College GEOL100 – Physical Geology 100 Online Course!
<![if !vml]>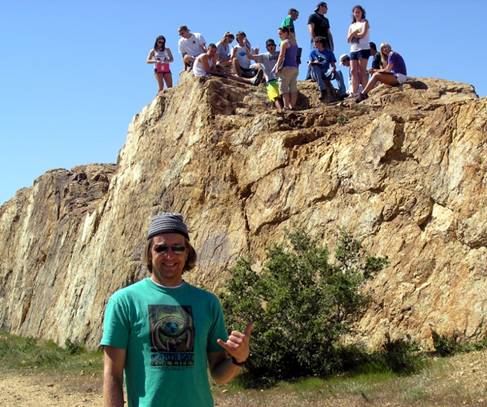 <![endif]> Hello Geology Student! My name is Ray Rector, your geology online instructor for this course.
Congratulations for signing up for my physical geology course here at San Diego Miramar College during this Spring 2022 semester – you picked a great program! This is No-Cost, 3-unit, college-level, physical science course that takes place over a 16-week time block, and is taught purely online and asynchronous.
How This Online Geology Class Works:
1) The student (that's you!) uses this asynchronous online classroom platform (Canvas) to learn introductory geology and successfully (hopefully) get college credit for doing it. To successfully complete this course, you must successfully complete a couple of research writing assignments, post on discussion board forums with your fellow students, take several quizzes and exams, and go on a virtual fieldtrip or two.
2) The instructor (that's me!) is primarily a course content facilitator, discussion leader, and learning outcome assessor – I'm here to make sure that you are able to access all the course content, that you understand how to successfully complete all the course activities, and finally, grade your assignments and tests. You and I primarily communicate via discussion board and email me using the "Inbox" link found on the main Dashboard Canvas page. You can also reach me at my personal website email address at geoprof@geoscirocks.com
3) The information (course content) you need to learn in this course is found in several places: a) your textbook, b) instructor lecture notes, c) instructor's website links, d) numerous website and online article links that have been included in the assignment instructions, and e) direct personal communication with me.
4) Navigating through our Canvas course site is somewhat simple. When you log into our Canvas course, you'll notice that there is a menu on the left side of the course page, where all components of the course are listed. This menu has several linked categories that include the following: "Home"; "Announcements"; "Assignments"; "Discussion"; "Quizzes; and "Grades". Below are some details for each Canvas menu item:
a) The "Home" link is where you will find all the various course components listed/expanded to view. The "Home" page also has important logistical documents and information, such as my instructor welcome message and video links, and the course syllabus and schedule. Other useful items are also there and include assignment and test-taking tips, plagiarism info, a link to my personal educational website, and Canvas help links.
b) The "Announcement" is where to find weekly update messages concerning current course activities and due dates.
c) Means of communication between course participants is done from the "Discussion" link. Note that "Email" messaging is done outside the course page, but within the general Canvas Dashboard site under the "Inbox" Icon. Alternately, I can be contacted via traditional email at geoprof@geoscirocks.com.
d) Assessment components (graded class activities) of this course are found under the "Assignments", "Discussion", and "Quizzes" sections.
e) The course's geology science curriculum is found both on the course Canvas page under "Learning Resources" and at my personal student website at www.geoscirocks.com. Learning resources include the no-cost e-textbook, the professor's lecture materials (Power Points and lecture notes), streaming geology learning videos and tutorials, and several Internet geosciences education links.
f) Required research/writing assignments are found in the "Assignments" and "Discussion Board" links. You access writing assignment instructions and submit your assignment response from the "Assignments" or "Discussion" portal, depending on the assignment.
g) Quizzes and Exams are taken via the "Quizzes" link. You get three attempts at the quizzes, and are untimed. Exams are timed with one attempt. All tests are open-book.
h) You have access to your grades in the course through the "Grades" link.
i) The "Discussion" link includes several different forums, including two graded forums. This where students can hold public or private discussions concerning course work – primarily students helping students – and for raising any sorts of questions, comments and concerns about this course or anything in general.
5) Your typical work agenda for each week will include the following: a) reading a chapter in your e-textbook, b) viewing the professor's PowerPoint presentations and lecture notes, c) watching an "Earth Revealed" streaming geology video, studying the geology slide show tutorials, posting on discussion board, working on a writing assignment, and d) taking a learning assessment quiz. Impromptu, nonmandatory Zoom lecture meetings will be announced ahead of time.
6) I personally grade your written assignments and forum posts, whereas the quizzes and exams are automatically graded. Therefore, you get homework and test results back rather fast, whereas your submitted written assignments will take longer for me to grade and get back to you. Please give me a little patience with getting back your graded written assignments.
Important Resources and Must-Read Documents
Make sure to thoroughly and carefully read the course syllabus, schedule, and plagiarism policy.
1) The syllabus is essentially the official course agreement between me (the instructor) and you (the student). This is where all the course information and logistics are found. Things like textbook information, how assignments should be completed, and grading standards are all found in the syllabus.
2) The schedule is, by far, one of the most important documents during the semester for keeping your studies on a timely track – things like homework study assignments and test due dates are all there; it's a document that you will want to check nearly every day. The schedule has clickable web-links for all the weekly study assignments, including textbook chapters, lecture slide shows and tutorials, and streaming geology videos.
3) My plagiarism policy is outlined in the "Online Netiquette and Student Code" portion of the course syllabus, and also posted on the Canvas course menu. Read and understand it very carefully. Note that I use plagiarism detection software like "Turnitin.com" and "Eve2" on the assignments that you turn in to me.
4) Assignment and Test taking tips are found in the "Home" page -- created to help you successfully complete and submit the assignments, quizzes, and exams.
5) For those students who are new to the Canvas online learning platform, a very helpful link to a Online Student Training page is found under the "Home" page (URL: https://www.sdccd.edu/about/departments-and-offices/instructional-services-division/online-learning-pathways-1/students/student%20training.aspx)
6) Your typical work agenda for each week will include: a) reading and studying several chapters in your no-cost e-textbook at Opengeology.org; b) studying the professor's PowerPoint presentations and lecture notes; c) watching and studying online geology slide show tutorials; d) watching the streaming geology video series titled "Earth Revealed"; e) posting on the discussion board; f) working on a written research assignment, and g) taking a couple of quizzes.
7) I personally grade your written research assignments and discussion board posts, whereas the quizzes and exams are automatically graded. Therefore, you get test results back on the test due date, whereas your submitted written assignments will take longer for me to grade and get back to you. Please give me a little patience with getting back your graded written assignments.
You will also be using an additional educational website that is designed and maintained by the instructor (my personal website) exclusively created for maximizing your learning outcomes. This website is found at:
www.geoscirocks.com Once there, click on the
<![if !vml]>

<![endif]> button to access our classroom web page. Here you will find a plethora of information that will greatly facilitate your success in this course.
Assignment and Test Dates
Each and every assignment and test has two specific dates: 1) the availability date in which it becomes available for your inspection and response, and 2) the due date, in which it is due for grading, which is the same thing as the expiration date, as it also becomes unavailable for inspection henceforth. Most assignments and tests are due on a Sunday by 11:59 pm.
Late assignments and tests are both unaccepted. Make sure that you stay on top of ALL due dates (listed in the Course Schedule).
I hope that you will enjoy this course this semester, and that you will learn a lot about the Earth too. Let's make the most of it during this spring semester! Look forward to meeting everyone online.
First Week of Class Activities/Schedule
During your first week of class, you will need to do several things to get started in this course. Below is the list of Week #1 class activities:
1) Read/study the class syllabus and schedule posted on the Canvas class home page and here
2) Post an introduction of yourself to class on the discussion board (details in the Assignment folder)
3) Read/study the first textbook reading homework assignment – Chapter 1 - Topics: Introduction to Geology and the Origin of Earth
4) Read/Watch Study other supplemental homework assignments that covers an overview of geology and the origin of Earth
5) View professor's Introduction to Geology PowerPoint lecture
6) Take Quiz 1
Oh, and if you get a chance, please watch my posted Geology Class Welcome Video from Hawaii!
https://www.youtube.com/watch?v=4s8zDr6TUFY&feature=youtu.be
Aloha!
<![if !vml]>

<![endif]>
Ray Rector